3 Jun 2009, 8:15am
Reason
by
davidkain
leave a comment
For years my good friend Kurt Kurasaki (a.k.a. "Peff") has been talking about the Reason User's Group out in the San Francisco Bay Area. It's an opportunity for enthusiasts of everybody's favorite software production suite to get together and swap ideas, have a few laughs, and sync multiple laptops for realtime Reason jams. Seriously.
Well, at long last New York has gotten our very own!
Chris Petti, a familiar face to folk who have attended Reason/Line 6 events, was kind enough to organize the event at DubSpot. Despite being a small space to house the number of folk who attended, DubSpot was full of eye-candy for anyone even remotely interested in electronic music production (the APC40 from Ableton is beautiful, by the way). We'll be moving to larger venues for later events!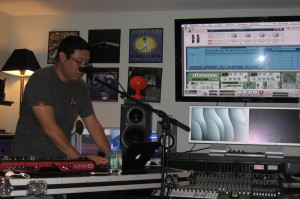 The actual meetup was unlike its Californian brethren in that it played out more like a Producer's Conference. Kurt and Chris took turns presenting some Reason tips and tricks spanning from the beginner level to advanced. It's always great to hear Kurt geek out about the more esoteric (a word that got tossed around a lot last night) aspects of Reason's devices. His presentations are brilliant for getting folk in the right mindset about Reason. Everything connects to everything! The highlights of Chris's presentation for me were a number of workflow tips. The sleeper hit there was the simple act of inserting a Spider Audio Splitter after your audio devices in order to send a signal both to Reason's mixer and the direct audio outputs. This allows you to have control over all of your tracks when outputting to a DAW without disabling your ability to play those devices strictly in Reason. It's a great tip I'll be implementing in my projects from here on out.
Unfortunately, there wasn't any talk on Record, the upcoming upgrade to Reason from the Propellerheads, but Chris hinted that James Bernard may be out to demo the software sometime soon.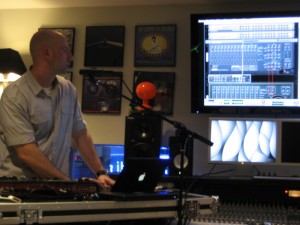 Thanks again to Kurt for coming out to help, and to Chris for finally getting us rolling.